Demand Gen Report Announces Speakers, Sponsors For 2013 Content2Conversion Conference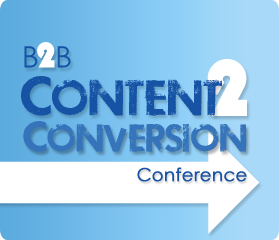 Demand Gen Report announced this week that a diverse group of B2B content marketing industry leaders will share their expertise as featured speakers at their second annual Content2Conversion Conference, to be held April 22-23, 2013 at the Times Center in New York City.
Convent2Conversion is the only event of its kind solely dedicated to addressing the content and demand gen needs of B2B marketers. The event will focus on empowering marketers with strategies for mapping, developing and using content marketing to nurture buyer relationships and improve conversions.
B2B marketing executives from a variety of industries, including health care, financial services, and high techology, have already committed to participate in the 2013 event.
According to Andrew Gaffney, Editor of Demand Gen Report, the number of high-profile speakers, sponsors and attendees – both new and returning – reflects the event's growing status as a "must-attend" networking and educational event.
"Content marketing continues to be an increasing priority among B2B organizations, and we're honored to welcome our 2013 sponsors and speakers in their recognition of this unique opportunity," said Gaffney. "There's no greater testament to the success of an event than the return of attendees, sponsors and speakers, and we're proud to say we have far exceeded expectations in each category as we prepare for the 2013 event."
New speakers added to the agenda include top authors and thought leaders in demand generation and content, including:
Joe Pulizzi - author, speaker,a strategist and founder of the Content Marketing Institute;
Lee Odden - CEO of TopRank Online Marketing, a digital marketing and online PR agency;
Ardath Albee – author, speaker and CEO of Marketing Interactions Inc.;
Margaret Molloy - CMO at digital marketing agency Velocidi;
Michael Brenner - Senior Director of Global Integrated Marketing and Content Strategy for SAP
Demand Gen Report also announced several key sponsors of the 2013 Content2Conversion Conference, including Eloqua, Limelight Networks, Content4Demand, KnowledgeVision, Curata, Demandbase and Ion Interactive.