B2BMX 2023 Day 3: Creativity & Customer Focus Drive Marketing Success
Featured
The biggest takeaway from day three of #B2BMX 2023? B2B doesn't have to mean "boring-to-boring." The importance of creativity, emotion and humanity in B2B campaigns were key themes across multiple tracks — here's an overview of the day's high points.
Creativity Isn't Just For B2C Anymore
The recent addition of a B2B advertising category to the Cannes Lion awards signals a sea change, said Reuben Webb and Jeremy Cochran of Stein IAS in Wednesday's keynote, "Creativity In B2B: We Need To Talk About It." Webb explained that although B2B brands are realizing creative effectiveness is a growth driver, receiving executive buy-in for creativity requires marketers to articulate its rational benefits.
To help do that, the pair shared the "Creative Effectiveness Ladder." At the lower levels of effectiveness, creativity triggers response, generates leads and closes sales. At higher levels, it's a fame-maker, brand builder and strategic asset.
"Fewer than 5% of campaigns reach the 'fame-maker' level, so there's lots of opportunity," noted Webb.
Embracing the "big, long idea" can help you climb the ladder, as the bigger the idea and the longer you commit to it, the more effective it will be, said Webb. He continued that to determine if your idea is worthy of commitment, you should assess it for:
Originality — is it different from ideas the competition, industry, any B2B brand or any other brand has used?
Internal value — is it authentic to your organization and adaptable for each business area?
Customer value — does it solve a real problem and empower customers?
The duo shared a commercial they created for global veterinary pharma company Dechra. Challenged to break through in a rigidly conventional marketplace and engage vets and pet owners alike in spotting the symptoms of Cushing's Disease in dogs, they envisioned each symptom as a "suspect" represented by a different dog. Detectives examined the suspects to solve the "case." The campaign even included digital diagnostic tools that vets could share with their patients.
Doubling down on the importance of creativity was MNTN's Ali Haeri, who explored the current economic climate in his keynote, "The CMO's Guide To Innovating During The Economic Storm." Ads, landing pages, gated content and drip campaigns are table stakes today, but "if that's all your marketing team does, you're in trouble," warned Haeri.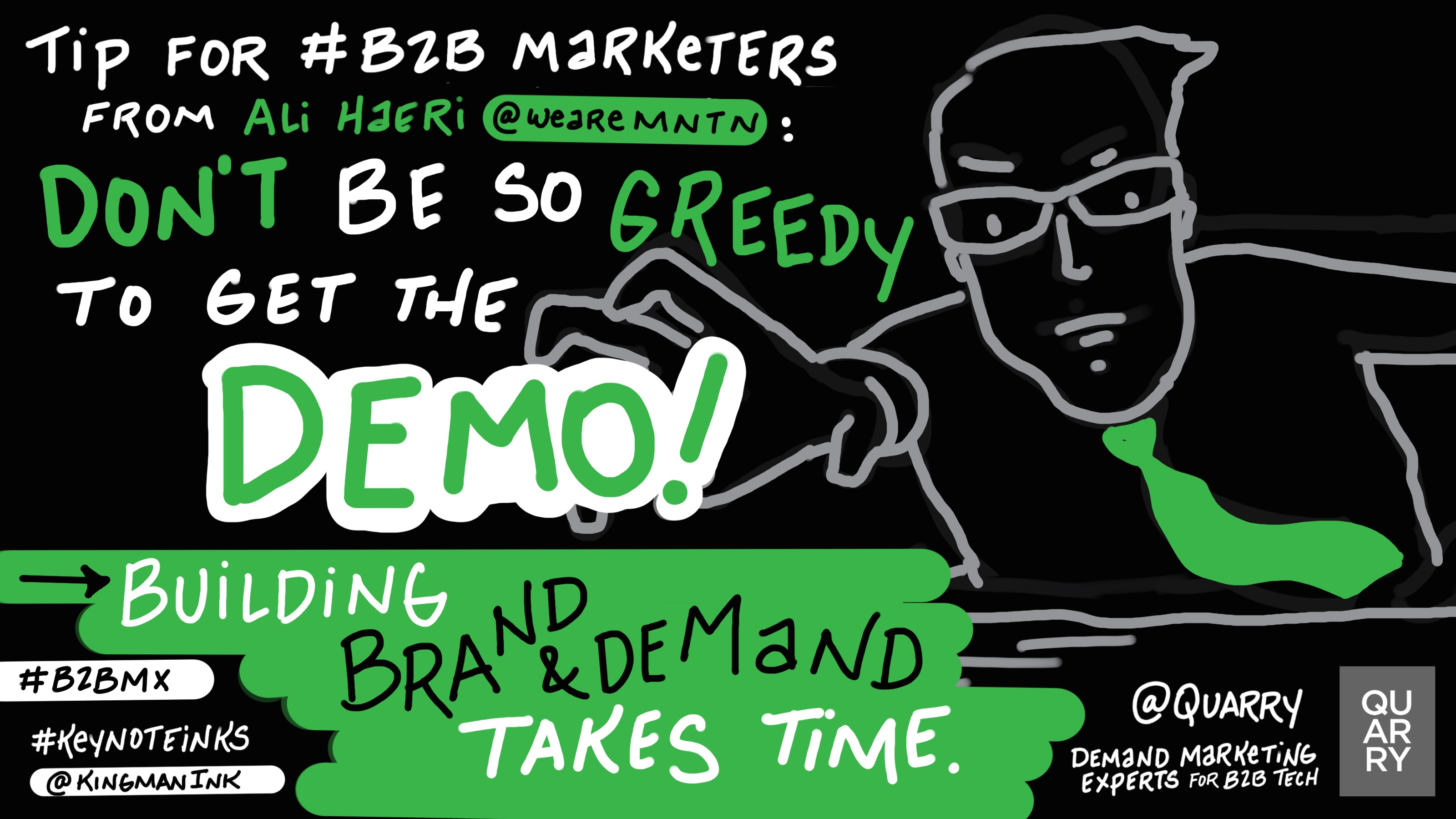 Instead, he urged marketers to move beyond the established marketing playbook and differentiate themselves to cut through the noise. He noted that creativity doesn't have to be expensive because ingenuity beats technology.
"There are lots of affordable and even free tactics you can deploy," said Haeri. "Just remember your B2B prospects are regular people too, so market accordingly."
He then outlined the strategies that have worked for MNTN, which include:
Using non-obvious social channels, such as Reddit, TikTok and Snapchat, as these platforms organize audiences very narrowly, making them conducive to marketing. "As long as your content has an authentic voice, you can stand out from the crowd," Haeri explained.
Advertising on TV — MNTN "drinks its own champagne," Haeri said, and garners 25% of its site traffic from its TV campaigns.
Creating satellite microsites that focus on sharing educational content, not on pushing visitors to sign up for demos. "Look for a category of content you can repurpose to create a satellite property where the pressure is dialed down," he advised.
"Sharing your expertise not only engenders trust, but if you're in a nascent space, you can get out ahead of your competition and shape how people understand your product category," Haeri noted. "Playing the long game and not being greedy about soliciting demos always serves you."
The Stakes Are Higher For Marketers
Expectations for marketing have changed, said Randy Frisch of Uberflip, in introducing the panel talk, "The 3 Steps To Fix Your GTM In Any Economy."
"10 years ago, we were just starting to hear about pipeline and ROI," Frisch said, to tee up the discussion. "Today we're responsible for the entire buyer journey."
Whether during growth, pandemic or recession, content will help marketers tackle whatever is thrown in their way. Recession presents an opportunity to become a "rising star," Frisch noted, but doing so requires a focus on superior customer engagement. This can be accomplished despite constrained budgets by focusing on existing systems, such as email, social and sales teams and using inexpensive strategies and tactics that can scale.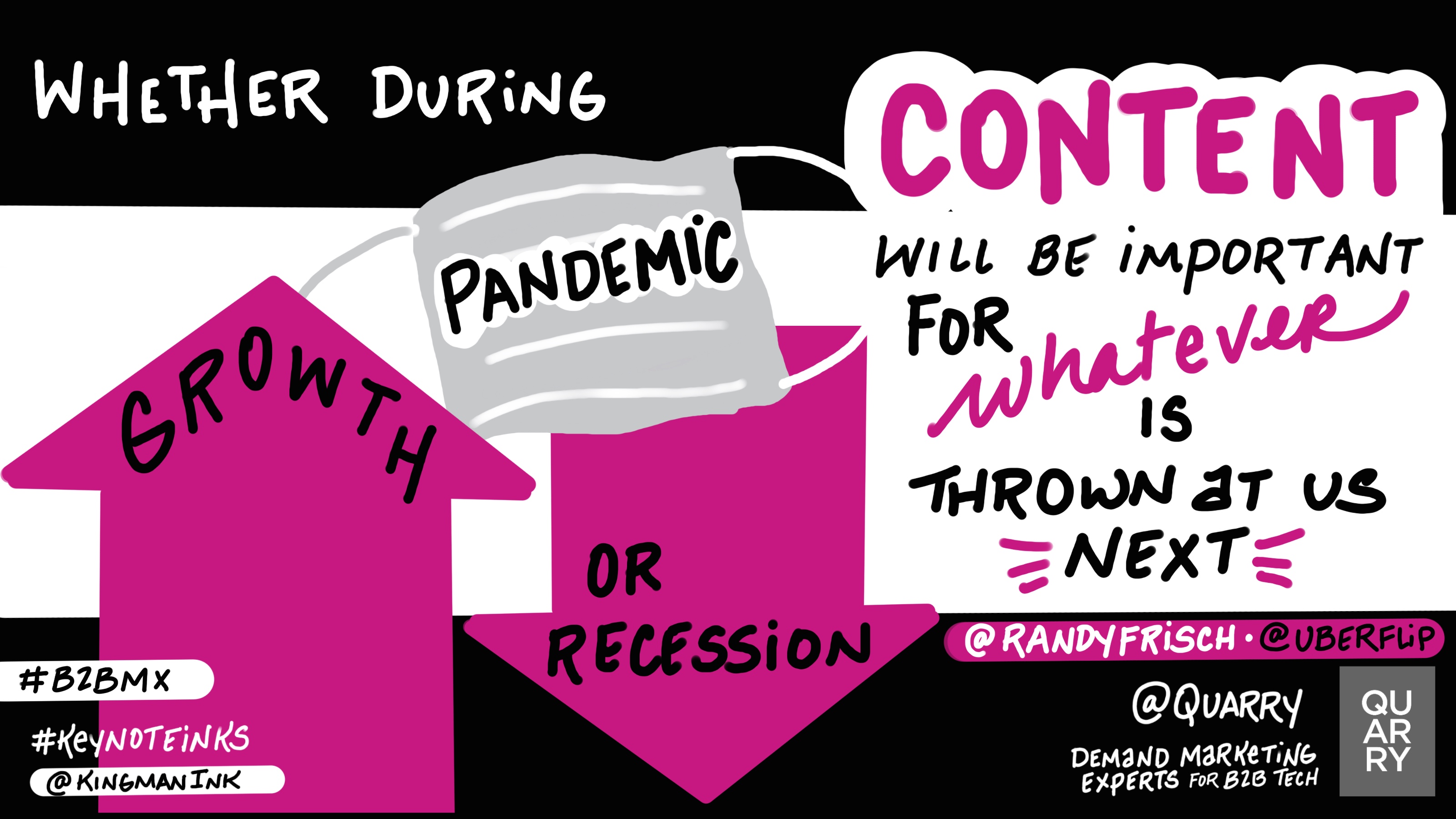 A targeted go-to-market (GTM) strategy will make it easier to prioritize the right initiatives and buyers, said Frisch, who continued that customers expect personalization, context and suggestions for relevant content. He then invited panelists to share the tools and tactics they're using to meet these expectations:
CES's Christy Ricketts explained that her team is working to help customers who have smaller budgets this year by creating turnkey packages and providing resources to help them make the most of their money;
Snowflake's Andi Quilalang emphasized the importance of collaborating with sales throughout the process to ensure alignment on messaging and content, which helps gather data about which content is stickiest; and
Foundant Technologies's Alli Hansen noted that it's necessary to empower sales by curating marketing content for specific needs and audiences and hosting it in a CMS for sales to access as needed.
"Especially in a recession, it's important to focus so that the impact of each piece can be higher," Hansen continued. "We can give sales all the tools in the world, but if we're not creating personalized content, it falls flat."
In another panel discussion hosted by Sendoso's Karen Steele, themes of storytelling and personalization were also front and center through, "Top Priorities & Challenges Of Modern CMOs."
Steele explained that at the end of the day, people buy from people, so creating personal moments is "super important." Takeaways from the discussion included:
The heightened need to be extremely efficient in a down economy, which requires marketers to articulate the why behind each marketing dollar;
The importance of telling compelling stories to humans; and
The shift toward customer retention during uncertain economic times.
Panelist Natalie Cunningham of Terminus explained that more than one-third of the company's marketing budget goes to customers. She elaborated that enabling customers to engage with each other in an informal community is a valuable retention tool that attracts prospects to the conversation.
For attendees hoping to advance in their marketing careers, the CMOs emphasized the importance of ongoing learning.
"You have to be a multidimensional marketer these days to be a CMO," said Onfido's Nate Skinner. "You don't have to do it all, but you have to understand it all."
Cunningham encouraged the audience to go beyond marketing: "Learn the business, and start understanding financial metrics, sales metrics and more."
Emotion: The New Marketing Advantage
It used to be that SEO or paid social media gave marketing an edge. But today, "the only algorithm that matters is the audience," said Convince & Convert's Jay Baer in his closing keynote, "The Audience Is the Algorithm, & Bravery Is The Answer."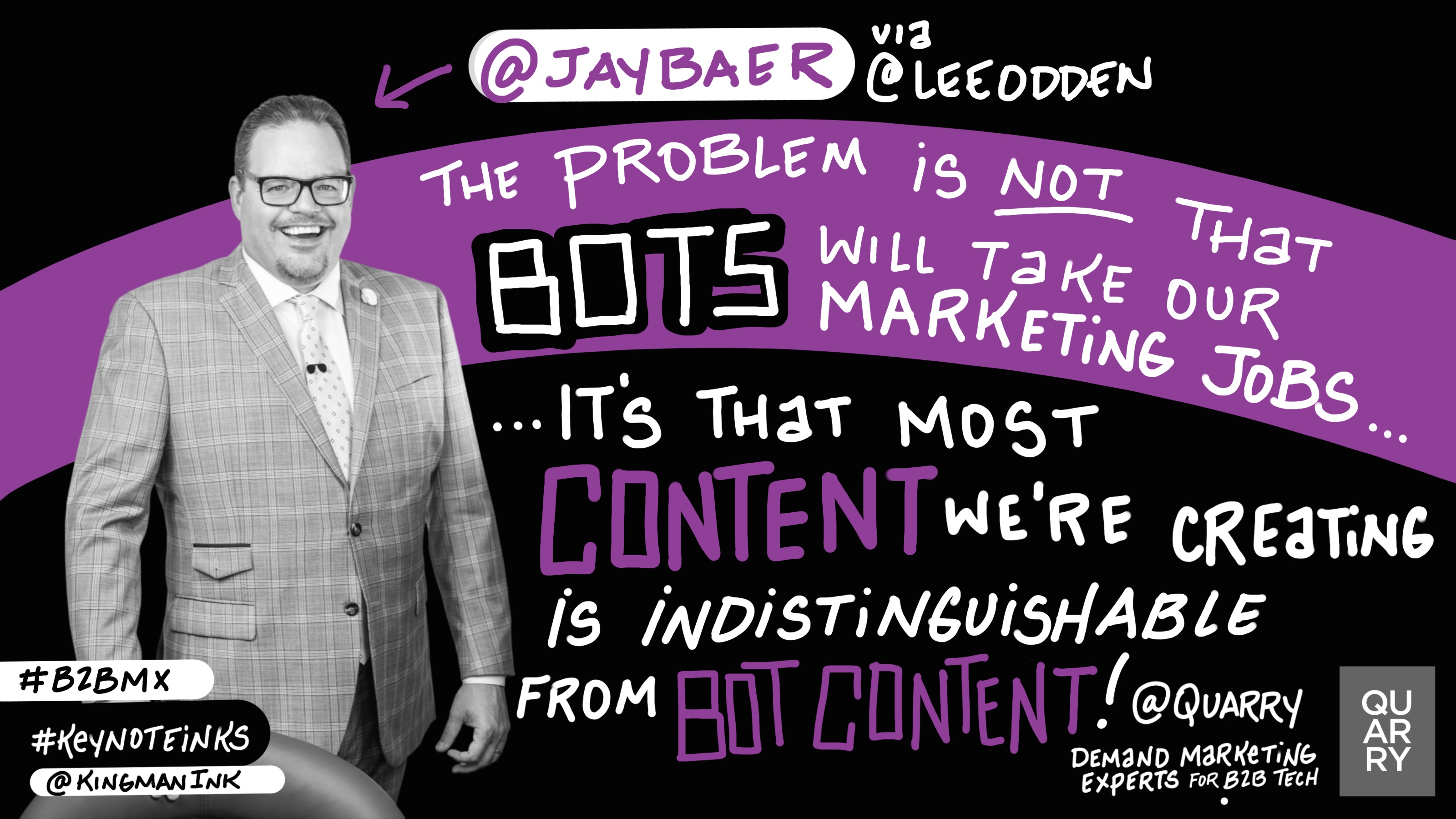 "The problem isn't that bots are acting like humans; it's that humans are acting like bots," Baer contended. Word-of-mouth influences 91% of B2B purchases, he noted, but competent marketing isn't enough to get talked about. For that, you need to create emotions.
Creating feelings — and gaining the marketing advantage — requires bravery. Baer shared five ways to win in today's B2B marketing environment:
Be brave and generous: Baer cited the example of a realtor who gave away a 63-page guide on how to sell a house yourself. Was he giving away the store? Just the contrary: "People get to page 13, realize it's really hard to sell a house and call him." The guide has become his No. 1 source of pipeline.
Be brave and useful: Share valuable information without making prospects jump through hoops or fill out forms to get it.
Be brave and fast: "We interpret speed as caring," said Baer. Make a gutsy promise, like Zeck, which promised to respond "fast — maybe as fast as Usain Bolt," and you're more likely to win the business.
Be brave and empathetic: Customers want their purchases to align with their values. Take a stand that appeals to what your ICP cares about, such as LGBTQ rights, even if it's controversial: "If you play it safe, you don't mean anything to anybody."
Be brave and feisty: Baer shared an example from Mutiny, which created customized raps for 30 customers — including calling members of the buying committees out by name — and landed 21 meetings as a result.
"Marketing that creates emotions outperforms marketing that doesn't," said Baer. "Make people feel something. It doesn't matter what they feel, as long as they feel."
Still craving more of the hardest-hitting insights from B2BMX? Check out our day one and two recap, and head over to our blog rounding up the top quotes from the event!