Adobe Summit 2019: Blurring B2B, B2C Lines In Tech Better Positions Marketers To Offer Epic, Frictionless Experiences
For years, B2B marketing has discussed the "consumerization" of the B2B buyer. However, technology specifically has continued to remain siloed as B2B or B2C point solutions. Adobe has shown that it is positioning itself as the cross-practice cloud ecosystem, especially with the acquisitions of Marketo and Magento, to drive digital transformation that meets buyer expectations of a frictionless, memorable experience.
At this year's Adobe Summit, roughly 20,000 business professionals came together to learn how to better position themselves for digital transformation that will enable them to provide genuine, seamless customer experiences. During the opening keynote, Adobe CEO Shantanu Narayen shared his company's story about transforming into the multi-billion-dollar cloud technology company that it is today. One of the key takeaways of that transformation was how technology is accelerating the convergence of B2B and B2C within the marketplace, leading to a deeper focus on customer relationships and experience.
Digital transformation must be imperative for the whole generation. @Adobe showing how they drank their own Kool-Aid transforming from a pdf company to a cloud ecosystem for #B2B and #B2C businesses at this morning's #AdobeSummit keynote! pic.twitter.com/QXx13nMoPo

— Brian Anderson (@BranderSays) March 26, 2019
"Before we started our transformation, we were actually a B2B2C company, and we didn't know who our customers were," Narayen said during his keynote. "Since [Adobe and Marketo] have come together, it's been clear that several of you are saying, 'we need to create that relationship and engagement with our customers.' At the end of the day — whether you're in consumer goods or manufacturing — who are the end customers, how are they using the products and how can you use digital to engage with them?"
This led to a conversation with Adobe's SVP of Marketo Steve Lucas, former CEO of Marketo prior to its acquisition in September 2018. Narayen continued to describe how early conversations with Marketo led to the conclusion that the lines between B2B and B2C are becoming ever more blurred.
"At the end of the day, we're not anything unless our customers really like us," Narayen said to Lucas. "I remember thinking about that, and you rattled off these customers. I think we've talked a lot about the fact that what's a B2B industry versus a B2C? Right? JP Morgan Chase was doing commercial banking versus consumer banking. And Nvidia, they do gaming and sell to computer manufacturers. And so, it was very clear that whether it was Comcast, Nvidia or JP Morgan, or Adobe, that these lines were going to blur, and we had this unique opportunity to bring these two [companies] together."
"It was inevitable that the #B2B & #B2C lines were going to blur." @Adobe ceo shantanu Narayan and @nstevenlucas talking at #AdobeSummit #MKTGNation keynote! pic.twitter.com/IxBojQUPdg

— Brian Anderson (@BranderSays) March 28, 2019
Lucas went on to describe how many of today's technological advances came from the ongoing changes in terms of customer expectations. He highlighted two notable services companies — Uber and Airbnb — which turned the experience into their overall go-to-market strategy.
"Now think about this: just a short decade ago, Uber and Airbnb did not exist," Lucas said. "Yet today, these [services] are staples. Experience has changed everything. When is the last time you saw an ad for any of these companies? You don't, because the marketing is the experience. The selling is the experience. Because the experience is not just palpable, but powerful. You keep coming back for more and more and more and it is unequivocal. That experience is the differentiator."
Lucas highlighted another example between two notable music festival producers further detailing the growing importance of experience in buying journeys.
"Experience is the line between epic and epic failure, and there is no further proof than Coachella and Fyre Festival," Lucas said. "Coachella, time and time again, delivers amazing experiences to festival attendees. It is the music, the content over and over again, and they are constantly raising the bar. Contrast that with Fyre Festival, which was nothing more than someone believing that a few tweets and some images with a good idea is the same thing as a great experience. But we know experience takes blood, sweat, tears and dedication — it takes work. That is the difference in today's world. The fine line between epic and epic failure is unequivocally experience."
Ultimately, positioning marketing teams to offer unique experiences in the B2B marketplace is table stakes in a world where customers have complete control in their buying journey.
"And that is the call to action today for each and every one of us in B2B: to make every experience epic," Lucas said. "Now is the time. My question to you is: is every interaction with your customers epic? Does it make them come back for more time and time again? Our job as B2B marketers is to do this with intensity."
Microsoft CEO: Digital Transformation Requires A Culture Of Learning
In line with Adobe's announcement of a deeper partnership with Microsoft, the company continued the conversation on digital transformation with Microsoft CEO Satya Nadella. When asked about how Microsoft is promoting digital transformation internally, he highlighted the importance of having the appropriate learning culture within the organization to drive that change for the greater good of their customers.
"Culture is so important because, in some sense, if you want to keep reinventing yourself, you need that learning culture," Nadella said during the keynote. "In other words, I realized that if we can move from this 'know it all' mentality to a 'learn it all' mentality and maintain that posture, that probably more than anything else can help."
Nadella also highlighted the importance of being willing to take bigger leaps in innovation to drive that transformation from an experience standpoint, as well as a product standpoint.
"I would say it is centered, first and foremost, on having a world where you know how you can uniquely add value to customers and partners — that's customer centricity," Nadella said. "But at the same time, knowing that [the buying journey] is not a direct line, but you must make a leap in product, the technology and the business model. This has been key to [Microsoft's] transformation."
#adobesummit starting off strong with a conversation w/ @Microsoft ceo @satyanadella! pic.twitter.com/PpNXMopWRb

— Brian Anderson (@BranderSays) March 27, 2019
Even with the idea of customer centricity and flexibility in mind, Nadella reiterated that it is difficult to continuously predict buyer behavior and completely understand customer expectations. He concluded by sharing his idea of the "No Regrets Rule," which is designed to create a more experimental mindset within the organization to make hypotheses of buyer needs and expectations and not be afraid to disprove them.
"The key to [the 'No Regrets Rule'] is where you build the social side of how you can rapidly and continuously experiment and create," Nadella said. "In fact, one of the measures we're trying to create internally for everything we do is how quickly teams are rewarded for disproving that hypothesis. Instead of saying, 'OK, you've got to be right all the time,' we found you've got to give credit to people who come up with hypotheses and prove them wrong. And so that's as much culture as it is systems."
Marketing Operations Leading The Charge For Experience At Scale
One of the other major trends at this year's event was the growing role of marketing operations within the underlying structure of the marketing organization — and ultimately how it helps businesses provide frictionless customer experiences. Palo Alto Networks, which won a Revvie award for "Marketing Team of the Year," shared how they created a process framework to provide the right content and experiences through predictive strategies.
"I've been hearing for years now how 'content is king.' I disagree," said Jake Schlan, Senior Marketing Systems Manager of Palo Alto Networks, during his session. "I don't think content is king. Content is queen because it's still important, and process is king. We have over 8,000 pieces of content that we've produced as a team, and if we can't distribute that to [prospects] well and get the right piece in front of them in a way they want, it's kind of worthless. We saw that in our web traffic."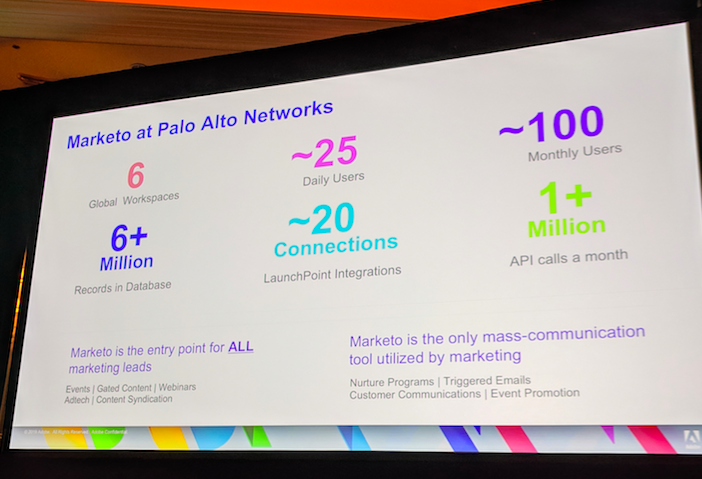 By incorporating a predictive layer into their operations process that requires the stakeholder of the campaign, as well as the campaign and data science teams to understand who they are targeting, how they will be engaged and with what content, Palo Alto Networks was able to better engage its target audience through a variety of channels, including email and the website.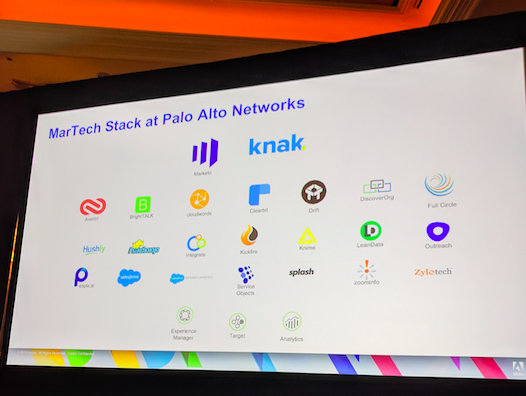 Citrix also took the stage to share its transformation in setting up a marketing operations framework that enables its team to engage prospects effectively at scale. During a session with Ryan O'Shea, Manager for the Global Demand Center at Citrix, he shared how aggregating four separate Marketo instances through various acquisitions required the team to set up 15 different permission groups in Marketo to ensure they aren't preventing growth while maximizing productivity amongst its marketing teams.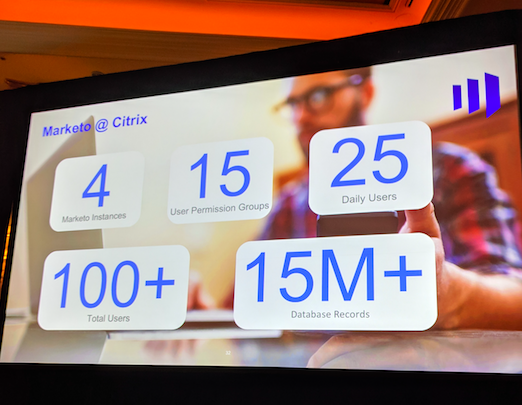 "We're constantly trying to balance our growth with our scale," O'Shea said. "In order to do that, we have up to 15 different permission groups in Marketo. We try to manage their permissions in a way so that they're able to do the work that they need to do, but not mess up stuff that they shouldn't be doing."
O'Shea concluded that the key to formulating that framework is understanding your customer and how they engage, then leveraging that to form the process.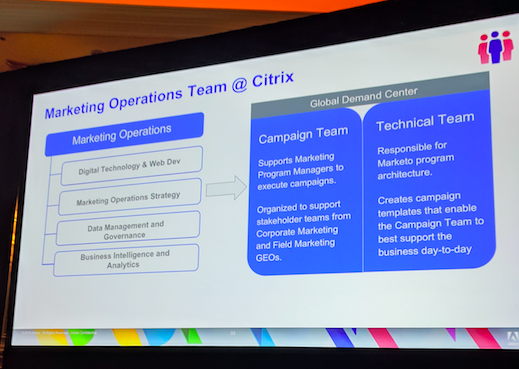 "Get to know your users and understand their goals," O'Shea said. "The best way for your marketing operations team to scale is to build a process that really supports the business and the things that they're trying to achieve instead of trying to push everybody through a process just because that's the one that fits your own goals. Understand your users and understand their goals to build a process that really works for them."
The Push For Account-Based Experiences
Lucas also discussed the growing importance of "account-based experiences" within the B2B marketplace, highlighting that the experience should not end at the individual stakeholder, but permeate across the entire buying team.
"Account-based experiences will change the game," Lucas said. "This is one of the new and massive focus areas for Marketo as part of Adobe. It's an entirely new way to identify, engage with and deliver new experiences to account-based buying teams. It's more than one product; it's not just a feature. And it's certainly not just the tagline. This is a commitment from Adobe — that we will deliver end-to-end account-based experiences for you and your customers and come back time and time again."
During another session with members from Adobe and Dun & Bradstreet, attendees were polled on their top challenges to offering personalized, account-based experiences to their target audiences. The top three pain points were:
Cross-functional alignment (29%);
Access to relevant data and analytics (21%); and
Account identification (18%).
Interesting stats from an in-room survey done with attendees to @Adobe and @DnBUS's session at #AdobeSummit. Might have to zoom in, but top 3 challenges to #ABM #Personalization are: 1)alignment 2) data access and 3) account identification sttuggles pic.twitter.com/W6q09vqsQc

— Brian Anderson (@BranderSays) March 28, 2019
According to the company, Adobe is positioning itself to better enable its users to address these challenges — specifically the data hurdles — through new and extended partnerships. This includes a new partnership with LinkedIn, which positions B2B marketers to better target, orchestrate, deliver content and measure engagement on the professional social network. A deeper partnership with Microsoft also aligns key data sources within Adobe Experience Cloud for a holistic view of customer engagement.
"By bringing rich data from Microsoft systems to now populate these account-based profiles inside of Marketo, we can bring incredibly accurate and detailed data in an incredibly granular line of sight to what your buying team is doing," Lucas said. "Our integration with LinkedIn allows us to calibrate against the data that's in LinkedIn, and more importantly, connect with B2B buyers, as more and more B2B buyers are engaging on LinkedIn than any other platform."
This is a big deal for the #ABM folks out there. A holistic view of the stakeholder is one thing, but being able to tie all your data for a holistic view of the account is vital to effective #b2b #cx. It's all about the experience! https://t.co/LMDoVavypb

— Brian Anderson (@BranderSays) March 27, 2019
The company also announced new integrations with Demandbase and LiveRamp, both major players in the account identification and AdTech space that can further help B2B businesses target, engage and offer customer experiences across the buying journey to the entire buying committee.
"Paid media is a critical tactic to the account-based experience strategy, as well as the easiest and fastest way to scale your account-based efforts at every stage of the customer journey — whether you're trying to reach people that you already know, or five people that you haven't met yet," said Ajay Awatramani, VP of Global Product Management at Marketo. "With all new integrations with Demandbase, Adobe Ad Cloud and LiveRamp, we've opened the options of paid media more than ever before. You can now target these audiences across a massive network of B2B media sites, display, search, TV and hundreds and hundreds of other ad networks."