Gong Launches New AI & Machine Learning Functionalities Within Reality Platform
Gong is designed to leverage AI and machine learning to unlock the reality of customer interactions to help people and companies reach their full potential. Gong's Reality Platform™ autonomously empowers customer-facing teams to take advantage of their most valuable assets — customer interactions, which the Gong platform captures, analyzes and then delivers insights in real-time and at scale, enabling revenue and go-to-market (GTM) teams to determine the best actions for repeatable winning outcomes.
The Lowdown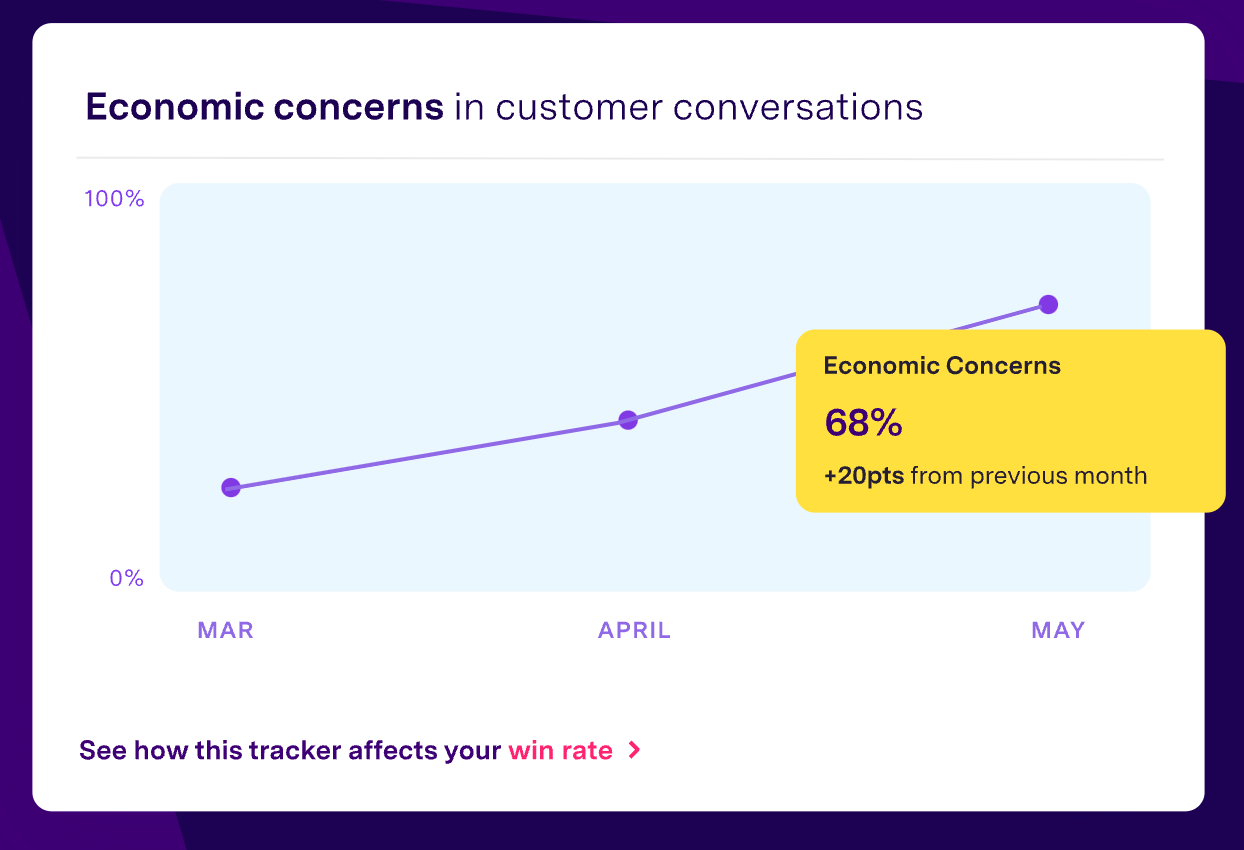 Economic Pulse, a new functionality within Gong's reality platform, uses AI to give sales, marketing and product teams visibility into customer conversations about economic uncertainty or concerns, surfacing these references in customer interactions. This visibility allows revenue leaders to adjust strategic planning and client communication according to relative concerns, stabilizing the ongoing and potential opportunities pipeline.
Gong Forecast is designed to apply proprietary AI and machine learning technology to surface risky deals, see upcoming forecasts autonomously and understand the "why" behind any changes.
Smart Trackers aim to provide a deep understanding of customer conversations, allowing revenue teams to continuously adapt strategies toward customer needs.
Back-Of-The-Box Details
Economic Pulse works within the Reality Platform to detect common terms and references related to economic uncertainty, alerting sales and revenue teams at the detection of a conversation trigger and how it impacts the current opportunity/deal. In addition to direct alerts, it enables the sharing of customer voice across the organization, leading to cross-functional alignment between sales, marketing and product teams.
With Gong Forecast, companies can monitor every customer interaction to determine what conversation or individual contributed to changes and adjust internal strategies accordingly. The AI-integrated software leverages more than 100 customer integrations, including Google Workspace, HubSpot, LinkedIn Sales Navigator, Salesforce and Slack, to observe and report on customer data related to interactive trends, document completion and more. Customer interactions that impact the revenue pipeline are also flagged directly to the product's user, allowing for knowledge-based decisions to be made in real-time.
Smart Trackers use AI and machine learning to go beyond keyword recognition and understand the context of all customer interactions captured and analyzed in Gong's platform. The AI-integrated software allows customer-facing teams to tailor their business, market and priorities relevant to each customer. Smart Trackers are designed to detect the context words associated with dependent variables such as discounts, budget constraints and compatibility concerns.
Who It's For
It's pivotal that GTM teams clearly understand the impact of the state of the economy on their customers. When leveraging Economic Pulse, revenue leaders can track, predict and respond to customer concerns — thus leading to informed decisions and sustained organizational growth.
Revenue leaders will benefit the most when implementing Gong Forecast. The program brings to light present-day customer voice to ensure sales planning aligns with customer reality.
Smart Trackers are designed to give revenue teams insight into customer thoughts and concerns that would otherwise go undetected. When implementing Smart Trackers, sales, marketing and product teams can stay one step ahead of execution barriers, drive sales revenue and increase customer satisfaction.
What It Solves
Economic Pulse combats revenue teams' ongoing obstacle of scaling a business based on outdated and misconstrued customer attitudes toward the economy. The AI-powered platform is designed to ensure real-time and continuous visibility into the customer's interactions that drive buying decisions.
The lack of information accessibility across revenue teams often hinders efficient sales forecasting. Gong Forecast is designed to store relative customer insights into one source to which all teams have access, ensuring organizational clarity when executing strategic business decisions.
Smart Trackers allow sales leaders to filter through conversations based on a specific question rather than the time-consuming task of sifting through keyword searches in hopes of finding a relevant answer.
What Makes It Special
Leveraging AI and machine learning, Economic Pulse is designed to deliver real-time customer insights that drive business decisions during economic uncertainty. Every interaction is captured and analyzed in real-time, producing insights that support alignment across revenue teams.
Gong Forecast is said to be the first forecasting product to analyze the actual substance of customer interactions in addition to the frequency. The reality-based solution is designed to arm its users with revenue predictability to drive productivity and streamline operational management.
Smart Trackers are designed to find concepts quickly and accurately. It is a user-trainable system that goes beyond keyword recognition to understand the context of customer conversations.
Contact
Gong
201 Spear St. 13th Floor,
San Francisco, CA 94105
Book a demo