Roderick Jefferson Discusses The Evolution To New-School Sales Enablement, Shares Details On New Book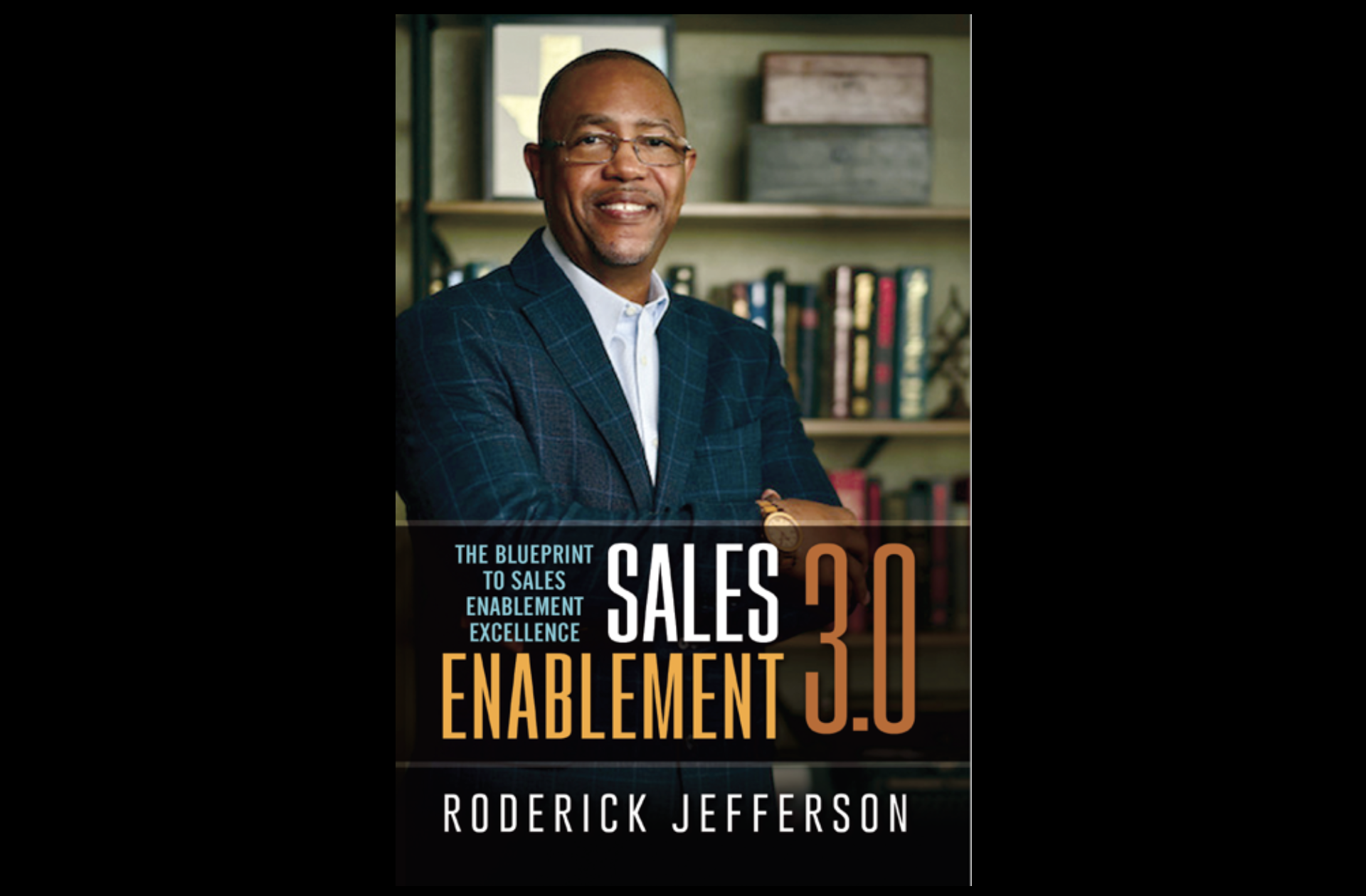 Sales enablement is in the middle of a slight overhaul. Covid-19 has accelerated the need to (virtually) help sales teams cater to buyer needs on the buyer's terms, providing them with the content and information they need at the right time.
Enter Sales Enablement 3.0, where we go from old-school sales enablement techniques to new-school engagement that puts the customer at the center of it all. Roderick Jefferson has been at the forefront of the sales enablement movement for his entire career, as a thought leader, a practitioner global keynote speaker, and the CEO of Roderick Jefferson & Associates, a global sales enablement consultancy that aims to use cutting edge technology to enable clients to decrease time-to-revenue and increase productivity. Jefferson has lived and breathed sales enablement and worked diligently to change the way organizations view and execute on the practice.
This year, Jefferson is gearing up for the launch of his new book: "Sales Enablement 3.0: The Blueprint to Sales Enablement Excellence," a blueprint for navigating the process of designing, deploying, measuring and iterating a world-class sales enablement organization. The book is available for pre-order now, and Demand Gen Report Editor Klaudia Tirico had the opportunity to sit down with Jefferson over Zoom to discuss:
What Sales Enablement 3.0 is;
How the evolution of sales enablement has been turned on its head in 2020;
Best practices for choosing the right sales technology;
His bold call to action for modern sales enablement professionals; and
Much more.
Read on to learn why Jefferson says, "sales enablement has an opportunity to do something we've really never seen before."
Klaudia Tirico: Congratulations on the new book, Roderick! Tell our readers a little bit about it and what inspired you to write it.
Roderick Jefferson: I did an on-demand course with Udemy around sales enablement and it just took off like wildfire, because it was available in 40 countries and almost 200 students now. I developed a script for the class and once I finished it, I thought, "Wait a minute, I've got my chapters. Now, all I have to do is add some meat on the bone and put some personal stories and anecdotes in." Before I knew it, poof, it was there. And here's the end result.
As far as I know, I'm the person that created the nomenclature of sales enablement that to become this global phenomenon. So I said, "I better go write this before someone else lays claim to it."
For me, the book is not about where sales enablement has been or what I've done for the last 20 years. It's about the future of sales enablement.
The book is really focused on three types of audiences. One, it's folks that are looking to transition into sales enablement. Secondly, it's folks that are in sales enablement and want to up-level their game. And thirdly, it's for executive leaders who want to learn how to work with sales.
Tirico: I am sure everyone has their own idea of what sales enablement actually is and all the different definitions can get confusing. As the author of the book and with your experience in sales enablement, how do you define it?
Jefferson: That's funny because that's how I started the book. If you ask 10 people, you will get 12 answers.
The definition of sales enablement to me is getting the right people, in the right conversation, with the right tools, at the right time. It's being able to talk at multiple levels. It's also about helping our sellers to do three things: accelerate speed to revenue, increase seller productivity and also connect what I call the "front in the back of the house of sales and customer support." You're building a beautiful home, not a short hallway that's traded out. It's about creating customers for life.
The analogy I give is, think about an orchestra. In a physical orchestra, you've got brass, percussion, woodwinds, strings, etc., and they're all trying to play music at different times. It's the same thing with all the lines of business: They want to do the right thing for the customer, but the problem is, they're stepping on each other. They're not coordinated, there's no communication and there's no orchestration that's happening on behalf of the customer. As the conductor taps in, now that noise becomes a beautiful, coordinated piece of music. That's what sales enablement does.
Tirico: How would you describe Sales Enablement 3.0 in a few sentences?
Jefferson: That's really easy; I start with the old first. Old-school enablement was just about accelerating revenue and increasing productivity. It was about strategy, architecture and execution, essentially process programs, platforms and tools.
New enablement is about the most important piece — the people. How do we help them increase profit across their company? How do we help reduce costs? And how do we help mitigate risk? And also, how do we become that hub that speaks to every part of the organization, speaking with marketing, product, marketing, engineering, HR, sales, etc. We collaborate and communicate so that people are all on the same page, and we're all looking the same.
The biggest problem I see is companies and enablement organizations were trying to define sales tools, stages and methodologies. New enablement is all about: How do you get those things to fit into the buyer's journey versus flip-flopping and trying to shoehorn prospects in and fit them into your sales methodology and sales stages.
Tirico: How has this evolution been turned on its head during Covid-19?
Jefferson: That is the one reason that I am thankful for Covid. Sales enablement, technology and tools have advanced, and for the art of sales enablement, it's like we're stuck in a time warp. What it did, for me included, is it forced us to get comfortable with being uncomfortable first. Secondly, to start doing things differently. You don't need to have butts in seats and people in front of you to enable them.
We've got to keep our sellers engaged, and practice what I call "edutainment." It's building out more on-demand content that creates a baseline, which then leads to the ability to enable them from a distance. But the biggest piece is, you have to be role-specific.
The other thing Covid has made us change about enablement is it has forced us to teach. And I'm glad! Let's teach our sellers how to start having conversations instead of giving presentations. No longer are you sitting across the table; no longer are you out playing golf. All those things are gone. Now it's far more personalized. Now I'm in your home and you're in mine.
And the biggest piece that's changed for sales enablement is having to build a community cohort remotely. That's tough, because before you can put together BDRs, alliances, channels, etc. — we all hang out, we get to know each other, we go through boot camp for a week, we go out for cocktails. How do you do that now? It has to be far more intentional.
Tirico: You mentioned sales technology earlier and I think it really has exploded recently. What advice would you give organizations looking to build a sales tech stacking to figure out what solution or technology works best for their teams?
Jefferson: That depends on where your company is in the maturation cycle and the growth of your company. But I believe there are some key categories that you should always touch. But I also caveat that with, and I say this in the book: Just because there are cool, shiny toys out there doesn't mean you have to play with all of them. And unfortunately, most enablement people — especially early in their career — want all the cool tech. To me, there are really more categories than must-haves.
You've got to have a learning and content management system. You've got to have a prospecting reporting tool, which is going to require that you have automated marketing automation tools. Then you've got to have a true sales enablement platform that helps get the right information to the right people, at the right time, at the right level when they need it. And then, finally, the revenue intelligence tools that help you to no longer create sales managers, but really teach them how to be leaders and coaches.
Tirico: What are three things you want readers to take away from your book?
Jefferson: First and foremost, there are no silver bullets or a single approach that'll guarantee success. However, there is a formula, just like other success processes, programs, tools, that requires a combination of practical application, trial and error. And then a lot of conversations with sales leaders — that's the key piece.
The second piece that I want them to walk away with is understanding that it's going to require a change from the way we've always done it. That change is not just with enablement; but also with marketing. We've got to reset our ICP because it's not going to be played the way it was before. Second-decision criteria have changed tremendously, as has the way that buyers are buying.
And most importantly, everything must start with the buyer's journey. That's where enablement comes in again … to be that orchestra master.
Tirico: Any final thoughts? What's next for you in the New Year?
Jefferson: The New Year is going to be all about getting out and marketing how this book will help marketers design, build and execute a more effective communication strategy on behalf of prospects and customers. I think that this is going to literally change the way that we approach sales enablement. We're going to put the customer front and center and put on the flashing lights around the customer. And in turn, I don't think 2021 will be as difficult when it comes to sales as 2020 has been if we adopt this new, innovative approach to it.
Sales enablement has an opportunity to do something we've really never seen before. Enablement, if done correctly, will be woven into the fabric and the culture of companies from the top down. It won't be sales enablement initiatives, it'll be your CRM, it'll be your CXO saying that enablement is how we're going to make a difference.
And I'll leave you with this, and this is to my sales enablement people. Please stop saying that we drive revenue … unless you carry a bag. We don't. We impact and influence revenue. Sales drives it!
To be added to the presale list and received a hardcover, signed copy of Jefferson's book, email info@roderickjefferson.com.