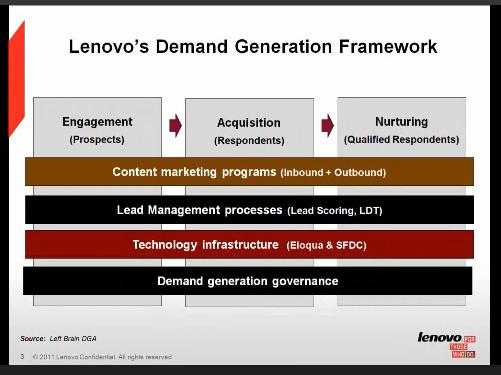 This month's DemandCon event in Boston offered a number of good case-study sessions for B2B marketers. One of the best of these studies showed just how important it is for a content marketing campaign to begin – and end – with a solid grip on B2B marketing fundamentals.
The session in question featured computer hardware maker Lenovo's work with Oceanos, a marketing services firm that focuses primarily on list acquisition, intelligence and marketing support. According to Steve Barnard, Senior Marketing Manager for Lenovo, the objective was to ramp up market share for the company's workstations used in computer-aided design and manufacturing (CAD/CAM) – a relatively profitable product line in a PC market normally defined by razor-thin profit margins.
Understanding A Complex Buyer Landscape
According to Barnard, one of his team's first priorities was to segment and analyze the CAD/CAM workstation market and to understand to nuances of a very complex buyer landscape.
"It was important for us to understand how big the space was and to size the market in terms of end users," Barnard said. "Ultimately, we needed to do some top-down funnel math to calculate . . . all the way down the funnel to MQLs and revenue goals to understand whether this market made sense to invest in."
The bigger challenge for Barnard's team, however, was to understand how different CAD/CAM software applications would shape a content marketing campaign. While high-end applications, for example, represent a much smaller market, the users of these applications are potentially far more profitable targets – if Lenovo had the ability to understand them.
The solution to this challenge, according to Barnard, started with a clearly defined, process-oriented approach to the marketing process. Lenovo, he said, uses a process it developed in conjunction with Left Brain DGA that looks across engagement, acquisition and nurturing with a combination of content marketing programs, lead management processes, technology infrastructure and demand generation governance.
"It really does take all of those, in concentration and working simultaneously, to build a campaign," Barnard noted.
Rigorous Targeting, Relevant Messaging
Lenovo then employed four major buyer personas, including engineers, designers, engineering managers and IT specialists, for its campaign creation and targeting activities. According to Barnard, Oceanos played a major role in the task of understanding and sizing the resulting market, and of analyzing Lenovo's prospect data sources to identify precisely the right targets for its content marketing efforts.
"Our job is to help [Lenovo] identify a specific audience, and to build a prospect database to support campaigns with very specific messages and targets," said Frank Wiley, President of Asset Management for Oceanos. "The reasons Lenovo's messages resonate with prospects is because Lenovo knew exactly who they were talking to, and they were then able to communicate the Lenovo brand proposition."
Barnard said that Lenovo's previous data investments had included entire services like Dun and Bradstreet and Data.com, where it was difficult to identify specific targets within broad industry vertical data sets. Armed with Oceanos' lead intelligence capabilities, he said, enabled the company's subsequent targeting strategies.
"We're not aligned to a particular data strategy or provider," Wiley said. "We can look across a whole universe of data and identify only those assets that align most closely with a client's strategy."
Channeling The Content Stream
Armed with a highly detailed understanding of its market and its buyers, and with content tailored to specific personas, job roles and key software applications, the Lenovo team started what Barnard described as a "content stream" campaign process that aimed not simply to move prospects through the funnel, but also to catch, recycle and often salvage initially unpromising prospect relationships. The Lenovo team did this with a campaign based on three content tracks:
A primary "buying cycle" content track that moved the most promising prospects directly through the funnel.
A "promotional content" track designed for prospects that had fallen out of the primary track. "If they fall off," Barnard said, "before we give up on them we offer some high value-add content that we believe resonates with a particular part of the buying cycle."
Finally, Barnard concluded, "if they still don't respond, we put them into a drip campaign track consisting primarily of a monthly e-newsletter. . . the drip content is our recycling stream."

At any point, said Barnard, if a prospect indicates interest, the Lenovo team's Eloqua marketing automation solution will "kick them back up and put them back into the buying cycle stream." And while Barnard acknowledged that every prospect has a finite lifespan, Lenovo aimed to keep its programs in place for as long as 18-24 months – a reflection to its commitment to its content-stream approach.
As with any successful content marketing campaign, the Lenovo team tailors its content according to buying cycle stage; early-stage content might consist of an extremely vendor-agnostic CAD/CAM performance white paper or the company's CAD/CAM performance blog, while later-stage content could include a workstation configuration tool or a ROI calculator.
Visualizing Content Marketing Bottlenecks
The other key piece to the campaign puzzle, said Barnard, was Lenovo's commitment to measuring and analyzing its progress. To do this, the Lenovo team works in tandem with Left Brain DGA and relies heavily on data visualization software from Tableau that allows it to maintain exceptional visibility into the funnel.
"We had one case of a single ineffective piece of content causing a major funnel bottleneck," Barnard said. "We would see people converting at 30% in parts of the funnel, but we had one content piece that stalled at less than 1%. We took it out, put a new piece in, and the flow started to go back up. With that (Tableau) funnel you can watch over time what happens, what changes, and were the bottlenecks are."
The Lenovo team also tags and identifies all of its leads by source to maintain visibility into which sources are generating results during a given campaign.
Finally, the Lenovo team shared some of the results of its CAD/CAM workstation perpetual campaign. These included:
A 210% increase in actual-to-target MQLs;
A 550% increase in lead velocity;
A 340% increase in inbound engagement.

Looking ahead, Barnard said, Lenovo's focus is on refining its approach by focusing even more closely on what it means to be a best-in-class B2B marketing organization. "Now that we've been doing this for the last 12-15 months, we've gotten to the point now where want to make sure we don't flatline a bit in terms of our progress. We want to go back, identify where we're weak, see what it means to be best-in-class, develop a roadmap and know where we want to get to during the next year."
blog comments powered by