Shifts in B2B buying patterns call for a new, soft-selling approach. This section highlights the rapidly evolving need to demonstrate value propositions via content marketing and educate prospects more effectively.
Written by Glenn Taylor, Associate Editor
Wednesday, 11 June 2014 09:29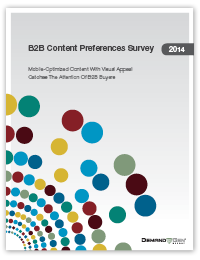 B2B buyers are placing a greater emphasis on visual content throughout the purchasing lifecycle, and are accessing content much more frequently from smartphones and tablets. These trends have led to an even higher buyer reliance on content than ever before to assist in research and purchasing decisions.
Those are just a few of the trends identified in Demand Gen Report's 2014 Content Preferences Survey, which polled more than 100 B2B buyers about their use of content in making purchasing decisions. Of the respondents, almost one third (32%) held positions in an IT department, while 19% worked in professional services. C-level executives represent 24% of the respondents.
Read more...
Written by Brian Anderson, Associate Editor
Wednesday, 04 June 2014 11:03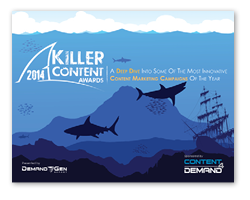 Content has become a highly valuable tool that B2B marketers are leveraging on a regular basis. As a result, buyers now face a daily deluge of content, raising the bar for marketers to differentiate their offerings.
What are the key attributes of content that rises above the rest? Of the 25 organizations that were recognized with Killer Content Awards this year, the trend toward highly visual content was evident. Content that speaks to buyers' needs and reaches them on social media and other platforms that are relevant to them also were key features of successful content marketing campaigns.
Read more...
Monday, 02 June 2014 10:10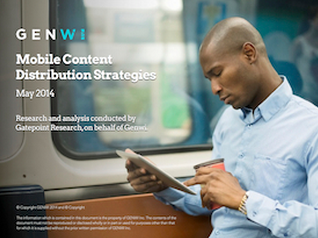 An overwhelming majority (84%) of companies are seeing healthy growth in demand for mobile content distribution, according to a report titled: Mobile Content Distribution Strategies, from Genwi, a real-time content marketing platform provider.
Read more...
Written by Matthew McKenzie, Chief Content Officer, Content4Demand
Wednesday, 28 May 2014 08:41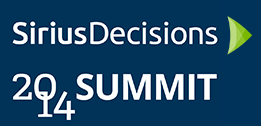 In recent years, the SiriusDecisions Summit 2014 has come to define the state of the art for modern sales and marketing organizations. Part of the reason is SiriusDecisions' ability to plug into and analyze top-performing organizations across a variety of industries. Most likely an even bigger factor is the SiriusDecisions team's talent for condensing its knowledge into compelling models and frameworks.
This year's Summit, held in Orlando, Fla., was no exception. A number of sessions featured SiriusDecisions' analysts rolling out new or modified versions of its frameworks, covering activities such as measurement, messaging, competitive analysis, teleprospecting and many others. In this week's feature, however, we'll focus on a topic that turned out to be particularly rewarding: content marketing, messaging and management strategies.
Read more...
<<

Start

<

Prev

1

2 3 4 5 6 7 8 9 10 Next > End >>


Page 1 of 11