#B2BMX Recap: Grabbing Buyers' Attention, Creating Change & Winning The Talent Wars
Featured
As #B2BMX 2022 wound to a close, marketers savored the opportunity to mingle with their peers, enjoy the Scottsdale, Ariz., sunshine and learn about the latest marketing trends and tactics. Here are the key takeaways from Day Two of the conference.
Secrets To Grabbing Customer Attention
"Shorter is better."
"A picture is worth a thousand words."
If you're still creating content based on these golden rules of grabbing customer attention, time for a rethink. Dr. Carmen Simon of Corporate Visions, a cognitive neurologist, debunked these myths of media with neuroscientific research into attention — how to get it, how to keep it.
Why is attention so important for marketers? "Memory fuels decision making. When you control people's attention and create a memory, you increase the chances of decisions being made in your favor," Dr. Simon explained in her keynote: "Made You Look: The Neuroscience of Attention in Virtual Engagements."
The presentation focused on lessons from two scientific experiments measuring reactions to the content. In the first experiment, Simon tested two versions of a sales pitch deck: One with pictures on the slides with the most important information, and one without pictures. Surprisingly, she discovered memories were more accurate after viewing the content without the image. "The old theory that we learn more from words and pictures than from words alone didn't pan out," she said.
The second experiment compared complex vs. simple content in a presentation about IT and OT (operational technology), a concept that may not be familiar to many buyers. The results showed that added complexity can help improve memory by making the brain work harder. Simon dubbed this the "elaboration advantage" and urged marketers to "have the courage to add extra details, stories and information that takes the brain deeper. But keep in mind that complex doesn't have to mean complicated."
Another way to capture B2B buyers' attention: Advertising on connected TV. In "From Demand Gen to ABM: How to Make TV Ads Work for B2B," Hooman Javidan-Nejad of MNTN explained how programmatic ads served on B2B buyers' biggest screens — their home TVs — can help marketers break through the noise.
"Marketers spend 90% of their budget on paid search, which captures demand but doesn't generate demand," Javidan-Nejad said. Others run paid social ads for gated content and pass the emails on to sales as a lead, even if there's no intent to buy. That's the old playbook. Connected TV is the ultimate channel for B2B demand gen and a way to instantly differentiate yourself from the competition who are still doing things the old way."
Of course, written content can still garner attention. In "How to Write SEO-Geared Content Without Hurting Quality," Adi Pick of Atera discussed how marketers can create content that ticks all the SEO boxes and makes buyers want to read it.
Start by understanding why you're writing the piece of content and whom you're writing it for, she said. Answering the questions searchers ask is key to quality content that also ticks all the SEO boxes, according to Pick, who offered these "pro tips" to improve SEO:
Google your keywords — look at the "people also ask" search results and answer those questions in your content. "Your competitors may not be doing this," she said.
Never underestimate the importance of localization. "Additional languages often have high search volume and lower keyword difficulty. Translating existing content into a new language is much cheaper than writing from scratch. It's a way to get great results for a very small investment," Pick explained.
The Hybrid World Is Here To Stay
Several speakers addressed the challenges of navigating the "new normal" of hybrid work, life and marketing. During the height of the pandemic, "organizations that invested in digital transformation were able to break away from their competitors," noted Luxy Thuraisingam of Cisco in the keynote "Digital Handshake: Hybrid Strategies Boost Business Outcomes & Human Connections." Data-driven insights, new intimacy with sales ("Think of marketing as sales' wingman") and marketing agility will be key to leading it in the right direction.
Cisco's Christine Otts and Thuraisingham shared how their organization pivoted to a fully digital Cisco Partner Summit in 2020. For 2021, they planned a hybrid Summit — and then Omicron struck. Agility enabled them to pivot to an all-digital event, but both believe hybrid is here to stay.
"People want and expect a hybrid experience. It's about choices," explained Thuraisingham.
"The only thing that is predictable is the unpredictable," noted Otts. "As marketers, we all need to be agile in how we live, work and play as we move forward."
In "Leave the Medium, Take the Value: Analyzing the New Era of Event Marketing," Aleksandra Panyukhina of parcelLab challenged marketers to flip traditional event marketing on its head.
"Traditionally events have been seen as a lead gen and sales magnet," said Panyukhina. "But the pandemic made us rethink the real value of events."
Marketers typically start by deciding the format of an event — virtual, hybrid or in-person. But Panyukhina advises first identifying the value you hope to offer and your organization's goals for the event. Answer these questions and you'll know what format is best.
Next, focus on creating an experience, thinking with a customer (not an organizer) mindset. "Look for ways to create active dialogue," said Panyukhina, citing virtual whiteboarding, polls, open-ended questions and competitions as ways to engage attendees at any format of event. Active dialog with your audience is also a fertile source of content ideas; simply reading the chat from a webinar can spark multiple ideas you can execute.
To measure the ROI of events, Panyukhina advised, "Start by thinking about revenue needed, then the pipeline needed to achieve that, the MQLs/SQLs needed for that pipeline and how many leads are needed to get there. That helps you decide what kinds of events to run and when to fit timelines for hitting business targets."
People, Planet, Progress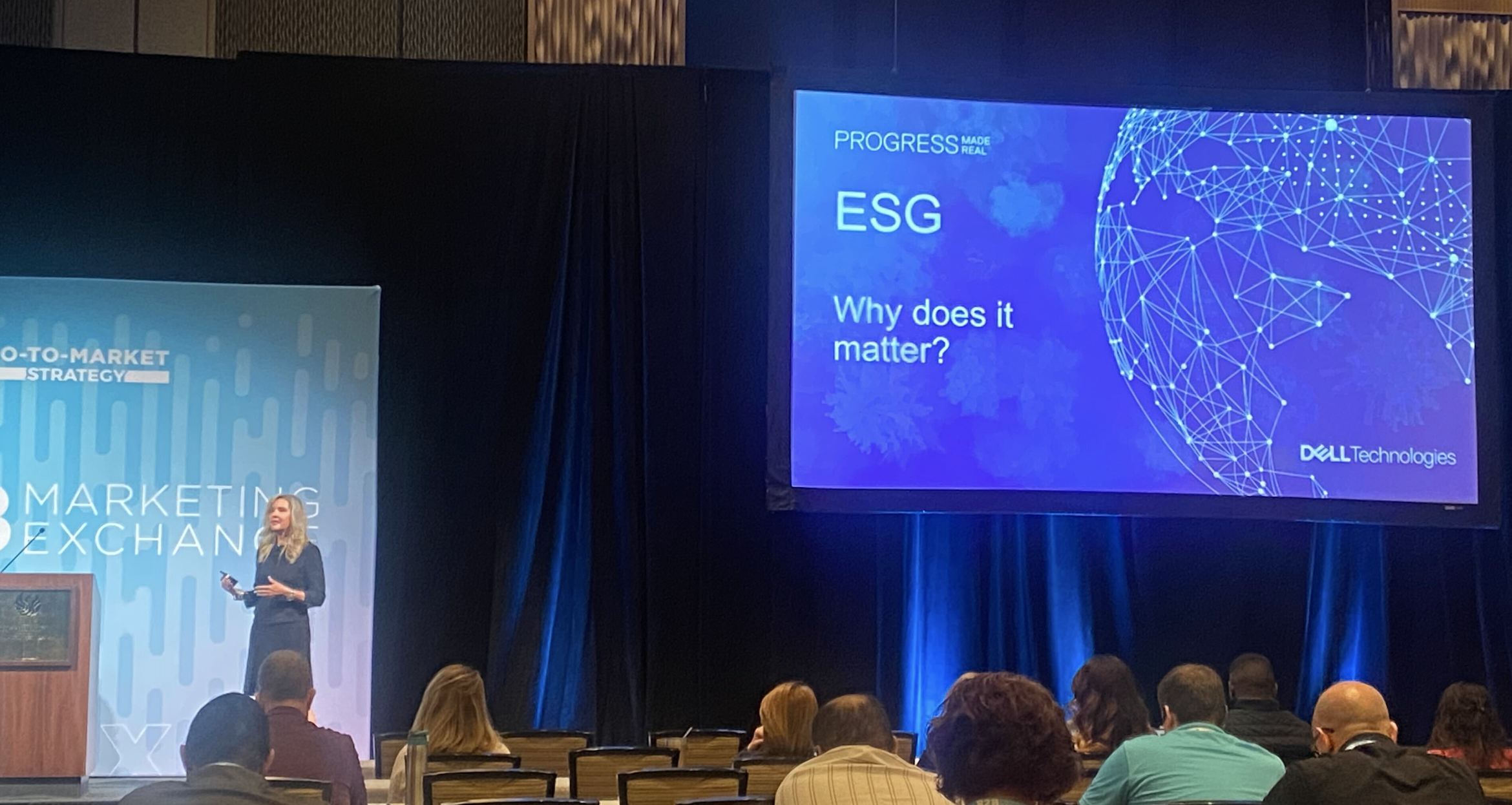 At its core, marketing is about the human connection. Making a positive difference for humanity in the form of ESG (Environmental, Sustainability and Governance) initiatives was the topic of "Making a Difference: Why & How Dell Technologies Is Collaborating with Its Partner Ecosystem to Drive Real Progress."
"ESG is increasingly not just nice to do, it's a must-do," said Cheryl Cook of Dell Technologies. "Some 94% of IT decision-makers say ESG influences their tech buying decisions."
At Dell, accomplishing the ESG goals in its Social Impact Agenda involves setting targets, developing strategies to achieve them and holding the company accountable by reporting progress internally and externally. Cook notes that setting audacious, "moonshot" goals can also motivate success. For example, Dell's sustainability moonshot goals include using 100% recycled or renewable packaging and more than half of product made from recycled or renewable materials by 2030.
Fostering an inclusive, diverse workforce is another of Dell's ESG pillars. "Companies that have a reflection [of diversity] in their workforce drive a 19% greater proportion of revenue from innovation," said Cook. The growth of hybrid work can support inclusivity: "It offers an unbelievable advantage to tap into global and diverse talent you might not otherwise have access to."
Ironically, hybrid work has also made job candidates pickier, concluded the marketing veterans in "Fewer Applicants and Higher Salaries: Understanding the Talent Shortage and Tips to Manage It."
"Because so many companies have opened up the boundaries of where you can work, candidates have a lot more choice," noted Rose Spicer of Oracle.
How can marketers win the talent wars? Spicer and Wes Lieser of Versique, Michelle Liro of Definitive Healthcare and Nirosha Methananda of Influ2 offered these tips:
Know how to "sell" the organization to candidates. "We have a saying: Candidates don't apply to jobs; they apply to companies. How you position your organization is important; the role is secondary," advised Lieser.
Expand your horizons. "You probably won't get someone who has all the experience you want," warned Methananda. "Open up the aperture to those who don't have industry experience but have qualities that can transition."
Look for a growth mindset, passion, curiosity and a willingness to learn. These qualities can't be taught; skills can.
In the race for talent, Liro cautioned managers not to forget about retention. "Employees are stressed and overworked, and they often feel like new hires get all the attention," she said. "Think about what you do to set new hires up for success and do the same with your current employees."
Candidates are in the driver's seat, the panel agreed. "It's not only 'The Great Resignation,' it's 'The Great Opportunity' — so take the opportunity to spend some time with yourself," Liro advised the audience. "There's never been a better time to reevaluate who you are, who you want to be and where you want to go next."